CEO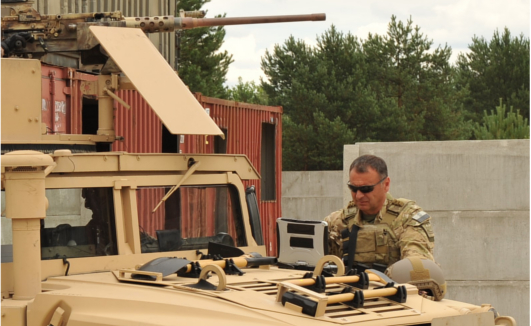 Reserve Colonel Piotr Gąstał
Former GROM Military Unit Commander
In the fall of 1991 col. Piotr Gąstał joined the GROM military unit. He served in several different capacities, including reconnaissance and operational cells as well as combat teams. In 1993 he was appointed to the team tasked with creating the Assault Boat Group within GROM.
In 1994 col. Gąstał participated in the "Restore Democracy" Operation in Haiti. His area of responsibility included protecting Operation's Commander, gen. David C. Mead.
In 1996, as part of GROM's Special Group, he was sent to East Slavonia (UNITAES) in former Yugoslavia, to support United Nations mission. In the summer of 1997 he actively participated in capturing the first war criminal of the Balkan conflict. Upon returning to Poland, he obtained a Master's degree from the University of Warsaw's Faculty of Political Science & Journalism and completed a postgraduate National Security Program at University's Institute of International Relations.
In 1999 he took part in OECD KVM mission in Kosovo, where he was tasked with protecting Mission's Commander, ambassador W. Walker. In 2000 Piotr Gąstał completed officer's course at the Wyższa Szkoła Oficerska Wojsk Zmechanizowanych military school in Wroclaw and was promoted to the rank of second lieutenant. In March of 2003 he completed the Special Forces Officer's Course (SFOQC) at the JFK Special Warfare Center and School in Fort Bragg, NC. Also in 2003 col. Gąstał served in the Operation "Iraqi Freedom" as the operations officer for TF GROM, within the Combined Joint Special Operations Task Force – Arabian Peninsula. Alongside US Navy Seals and US Army Special Forces he executed several search and destroy missions on threats to coalition forces. After returning to Poland in 2004 he was tasked with creating the Joint Terminal Attack Controller Group (JTAC).
In 2005 he completed the Combined Jointed Special Operations Task Force Course at the NATO School in Oberamergau, Germany as well as the Defense Assets Management Course at the Resource Management Institute in Monterey, Ca. In March of 2008 col. Gąstał graduated from the Naval Postgraduate School in Monterey Ca. with a master's degree in National Security Sciences – Combating Terrorism, Policy and Strategy. In 2010 he took part in Combating Terrorism – Advanced Special Operations Course at the Joint Special Operations University in Tampa, Fl. In 2012 he completed the Intelligence in Combating Terrorism course at the National Intelligence University in Washington, DC.
In August of 2011 col. Gąstał was appointed as the commander of GROM military unit by the Minister of National Defense of Poland. He assumed the position in September of 2016.
Throughout his service, Piotr Gąstał participated in many exercises, trainings and tactical workshops with Special Forces partners from the USA, Europe and Africa. On several occasions he provided advice on national security and terrorism matters to the President and the Prime Minister of Poland, to Ministers of National Defense, Internal Affairs and Foreign Affairs and to the General Commandant of the Polish Police. He was a guest speaker in several Polish universities.
In recognition of his commitment to military service, social affairs and international cooperation he was awarded several distinctions, including the Krzyż Załsugi za Dzielność medal, Gwiazda Iraku medal, Medal za Zasługi dla Policji, Pro Patria medal, Honorowa Odznaka Zasłużony dla Kultury Polskiej, and – at the request of the US Congress – with the flag of the USA.